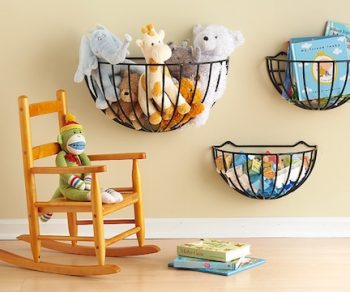 Use wall mounts to add extra storage that looks great! You can use wire baskets or whatever other type of container you think looks and works best with your kids' toys.
A cubby system looks great, especially when it comes to toys and a kid's room. It keeps things crisp, organized, and super neat looking.
For all the sports balls that you have to store, use a bungee cord or two. Stretch them out vertically, store the balls behind them, and they stay behind it.
Make magnetized shelves you can use to store small toys and trucks. It keeps them in their place without rolling off or around and making a mess.