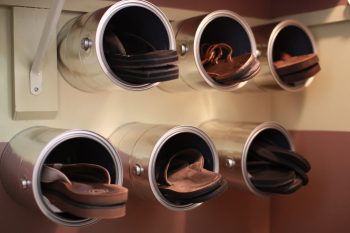 Clean up some paint cans and then attach them to the inside of your closet. You can fit a pair of shoes in each of the cans, making it so much easier to organize and store!
When you're out shoe shopping, try to do it in the evening. Research shows that's when your feet are usually the biggest, so when you buy shoes, they won't be too tight the next day!
If you have some smelly shoes, then try this. Take some dry tea bags and put them in your shoes overnight. This should help absorb some of the odor.
For squeaky shoes, use some baby powder. Apply them to the inside of the shoe (unless it's an outside part) and let the powder soak in. It should help stop the squeaking.
Shoes that don't have good traction can be a nightmare—you want to wear them but you're afraid you'll fall. Help fix this issue by using sandpaper on the bottom of your shoes to add some traction.