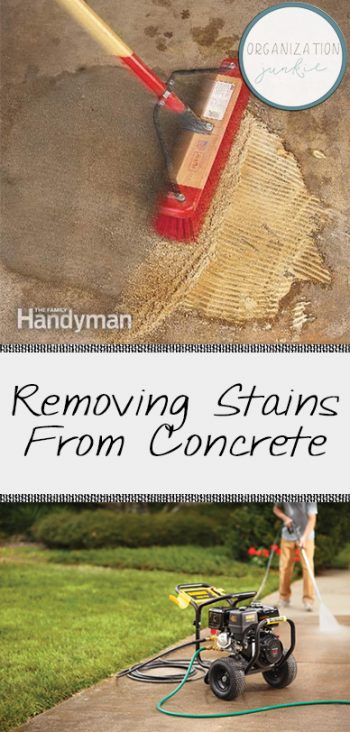 Is your driveway, garage, or patio stained with oil or grease? Have you assumed those stains are impossible to get rid of? Well, you're in luck. With a little bit of know-how and some free time on the weekend, you can eliminate those ugly stains and whip your concrete back into shape. It's actually pretty easy, and costs only about $20 or less.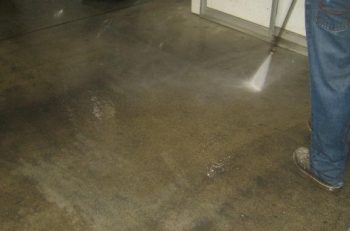 Step 1. Make an Absorbent Mixture
Most concrete stains can't be scrubbed away, because they've soaked into the porous surface. What you need to do is draw the stain out with an absorbent solution. Pour 1 oz trisodium phosphate into a small bucket along with 1 cup of water. Add about one cup of absorbent material, such as diatomaceous earth, to make a paste. Some might tell you to use kitty litter, but it's usually too coarse to be terribly effective. You may need a proportionately larger batch if you have a large area to treat.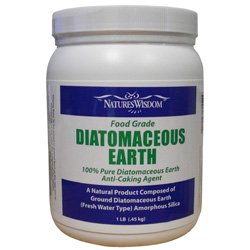 Step 2: Apply Your Paste
Once your paste is made, pour it over the affected area and spread it evenly. Wear gloves and use a brush. Allow the paste to sit on the stain until it dries, and it should slowly break up old oils and soak up the stain. Once the paste is dry, the cleaning action won't continue. At this point, you can scrape or sweep the dried solution away (but don't use a wire brush, which can leave particles, resulting in rust stains).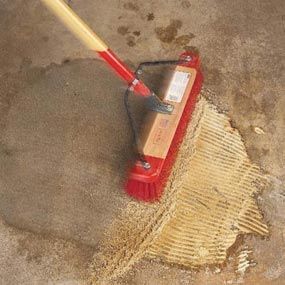 Step 3: Be Patient
You need to allow your absorbent solution to dry completely for best results. If some staining remains after the first application, empty your bucket, make up a new batch of solution, and repeat the process. You may need 2 or 3 applications to remove the stain (especially old ones) as much as possible. When you're happy with the results, try giving the concrete a nice pressure wash.