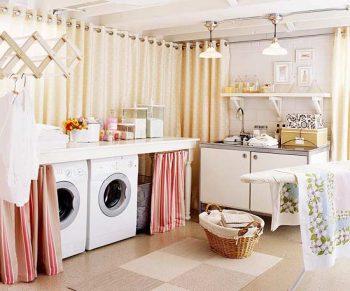 To make your laundry room look a little homier, try using a curtain to cover up the machines when not in use. Just stick a rod in front of them and pull the curtain across when necessary.
You can also use a rod behind a curtain to have a private drying place for your delicates. Simply hang the rod up, put your wet delicates on it, and then draw the curtain closed.
For easier access to your hampers, mount them on the wall. You can stack them on top of each other, or if you have the horizontal space, then line them up with each other.
If there is a small space between your machines or between them and the wall, then add a small little cart. You can put your laundry soap, detergent, and other cleaning supplies on it and then keep it out of the way when not in use.
For machines that are side by side, add a wooden board across the top of them for a nice addition to your storage. You can use this makeshift counter as a folding station or just a place to keep your laundry supplies.