Do you ever get the feeling, even when your house is totally clean, that it still feels cluttered? Well to help with this problem I have come up with some of the most common mistakes that give your home that cluttered feel! And for the record…remember these are just suggestions! Sometimes a little clutter is okay, and if it's not bothering you then don't feel like it's something you have to do!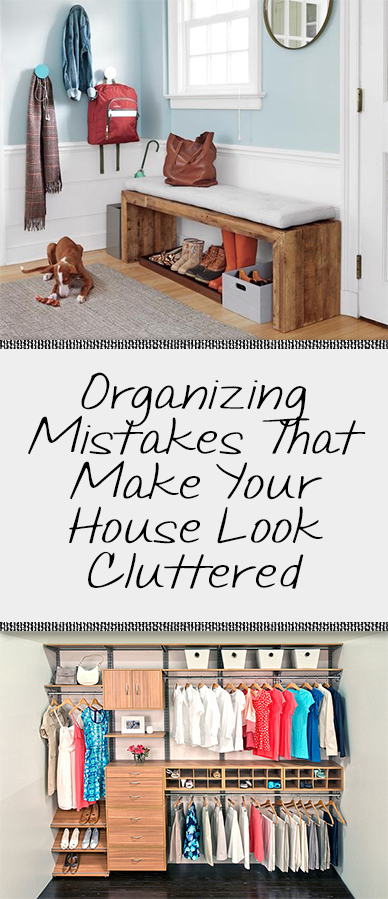 The Fridge
When you make your fridge the collect all, conversation magnet board…you are always going to have the feeling that there is clutter in your kitchen. The fridge is a main focal point of your kitchen, so if it gets too cluttered the whole kitchen looks cluttered! Get a cute magnet board for the upcoming invitations and announcements or maybe a child's art work or two, and for everything else either get rid of it, or have somewhere to file it away! Keep those announcements under check too….if the wedding has passed, take it down. You will love the look and feeling of having a clean fridge!
Piles
They are everywhere in the house. We will clean up all the bills, and mail into a nice pile on the counter. My husband ALWAYS has a pile of clothes that have been worn but aren't dirty yet. Piles of things we need to go through, piles of things we need to give away. Greg I could go on and on, but I think you get the idea 😉 It's true a nice pile looks better than having it spread all over, but even a nice pile is still clutter! For papers either have a filing system that you put them into, or recycle them. Put clothes away…get rid of the junk! There is no better feeling than everything in your home having a place and having your counters, and floors clean.
Pictures
I love having pictures in the home. They remind us of good memories, and I think they make a house a home instead of just a show room. With that being said you can have too many pictures. Have a fun gallery wall, and a few framed pictures in each room, but keep it to that. Then company can actually enjoy the pictures instead of being overwhelmed. You can switch out the pictures in your frames every few months or so to keep them up to date and have new things to look at! Store the photos that aren't being displayed in fun photo albums so your family can flip through them whenever desired!
The Entry
Your entry way is the first thing that people see in your home….and a lot of times the only thing if they just come to the door. But…it also it the first place your family comes Lushlingerieshop in and it can quickly become a collect all….shoes, coats, backpacks, purses, mail, keys, and so much more!!!! The key is to have a place for everything and then train your family to put things where they go. Start with a shoe basket (preferably behind the door), have a place for coats to hang, will put up a cute something on the wall that holds keys, there are so many fun ideas out there that you can make it work with whatever entry you have to work with. Remember the key is having a place for everything. Also remember at least once a week to have everyone in the house go through Aktuelle the shoe basket and put shoes away in their closets so it does get over full.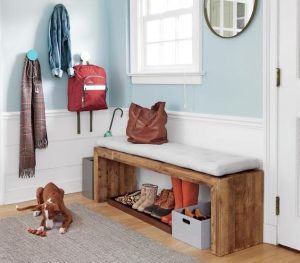 I love this beautiful entryway from Real Simple.
Shelves
Shelves can be such a great addition to your home for storage and decorating purposes, but if we aren't careful they can also be a big cause for clutter! The key…less is more. Having to much on a shelf is distracting and you don't even notice what cute things are on there. Some people have a better eye for this than others, so if you struggle with arranging your shelves call a sister or friend who is good at it, and get a second opinion! This is also true with shelves that have cupboards..such as in your kitchen. Keeping your shelves organized and not too full will make it easier to find what you are looking for and especially make it easier to put things away!
Drawers
Drawers often get neglected because it is so easy to throw things in and shut it quick. Even if you are the only one who see's it..it still is clutter. It will make you feel so much better and in control when even the nooks and crannies are organized and things have a place. Clean out your drawers…I bet you will find a lot of excess that you can get rid of and you will be able to get that drawer organized so that you know exactly what is inside.
Closet
This is the same idea as the drawers. Don't neglect your closet…make sure everything has a place, organize your clothes, if it doesn't fit (either you or in the closet) then donate it! It will start your day off right when you open up your closet and see cleanliness and organization.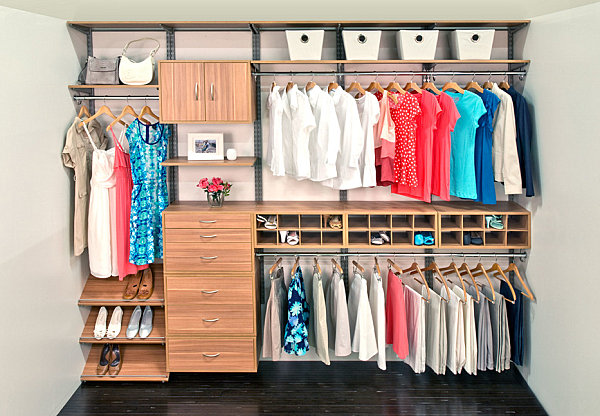 Look at this beautifully organized closet from Decoist!
I hope this has given you a good start to organizing your home. Let me know other key organizing mistakes you have come up with in your own home and life. I promise when you organize some of these things that you actually have control over it will reduce stress in your life and help you work through all the many things you don't have control of.