Who wants to spend hours a day picking up or cleaning the house? Not me! Make these 12 habits your own to keep the house cleaner!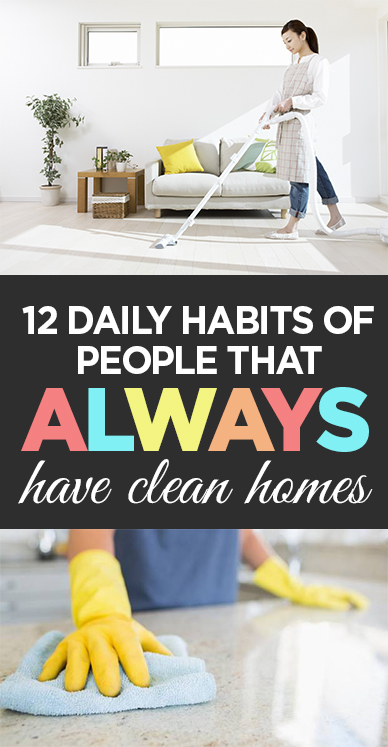 Habit #1 Get Rid of Excess
When you have too much stuff it is so much easier for clutter to collect. If you don't need it, and it doesn't have a place then throw it out, or give it away.
Habit #2 Make Your Bed Every Day
It's amazing how such a simple task can make such a huge difference! It will start your day right, keep you from crawling back in, and it makes your room and home look so much cleaner.
Habit #3 Put Your Clothes Away
It really takes maybe an extra 30 seconds to a minute to hang out clothes up, or put them in the hamper….but for some reason they always end up in a pile on the floor! Then the pile grows until you have a huge mess to clean up. Get in the habit of putting your clothes where they belong the second you take them off!
Habit #4 Do a Load of Laundry a Day
If you like having one day that you knock out laundry for hours then that's okay! For me when I do that then I end up with piles and piles of clean laundry that then sit there for days, and by the time you put them away you don't know if they are clean or dirty! So if you just stick to one or two loads a day and put it away right when it's done you will never get backed up with laundry! (except after that long family vacation)
Habit #5 Have a Junk Drawer
I know you are probably surprised by this one, but everyone is going to have some mail you need to get to later, or a phone charger laying around…so it's good to have a junk drawer that you can put those extra things into especially when last minute company comes over. Don't make a habit of forgetting about what is in there though….this is just a temporary fix!
Habit #6 Give Kids Chores
If mom tries to do everything herself all she is going to do is follow kids around all day and get worn out. Make your kids have the responsibility of picking up their room each day, putting clothes away, and smaller jobs like emptying the dishwasher etc. That's why we have kids isn't it?? Our own personal slaves 😉 (just kidding…)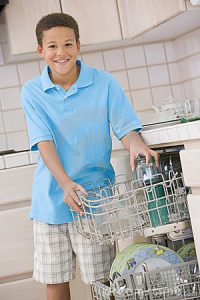 Habit #7 Pick Up After Yourself
This seems obvious, but it is definitely something you need to get in the habit of. I think this makes the biggest difference when cooking! If you clean as you go it makes after dinner clean up SO much more manageable! It also means things as simple as putting your makeup in the drawer when you are done, or folding a blanket after you use it!
Habit #8 Know When to Say No
If your schedule is so full every day that you are hardly making it through…you will notice it in the cleanliness of your home. It's okay to say no sometimes and keep time for you, your family, and your home each day.
Habit #9 Do One Big Chore a Day
You can decide what your schedule is, but one day could be bathrooms, another kitchen, then vacuuming. This way the house stays pretty clean (not just picked up) and doesn't take you hours and hours. Just a little here and there!
Habit #10 Wipe Down Counters After Use 
We all know the counter gets dirty when we brush our teeth, put on makeup, cook, etc. If we just take an extra minute and wipe it down after every use it will prevent stains and messes from getting caked on there and requiring some power tools to get it clean again! To make this habit easier have a rag, or paper towels for this purpose close by!
Habit #11 Plan Out Your Day
I promise I am normal, and I know sometimes things just come up that we can't control. But for the most part the craziness in our days is poor planning on our part! When we are running around like crazy all day, and constantly are behind schedule we are a lot more likely to leave messes behind us as we go! Take even 10 minutes each night to plan out your next day, and feel a little more in control of the chaos!
Habit #12 Have a Place for Everything
It's so much easier to put things away when you know right where it goes! It is also easier to ask kids to help clean up when this is the case as well!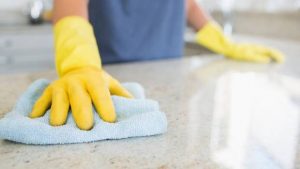 Good luck on making these your new 12 habits! Let me know what other habits you have that help you to keep your home in tip top shape!